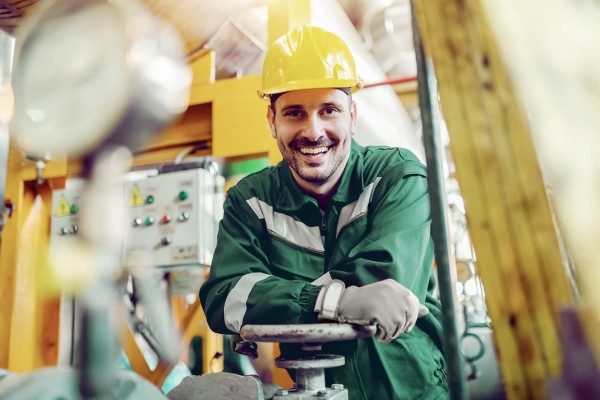 Ensuring safety – innovative solutions perfect for my needs
Oil and Gas
Securing the future of oil and gas
The oil and gas industry today is facing unprecedented challenges. Prices are fluctuating wildly against a background of oversupply, sharp changes in demand and new modes of production such as fracking. At the same time, exploring new potential fields has become more expensive and plagued by political instability in the resource-rich regions of the world.
Added to that is governmental and societal pressure to reduce CO2 emissions and increase the use of renewable energy sources. On a purely operational level, production planning is becoming more unpredictable and the maintenance of assets more expensive. On top of this, digital transformation is creating new business models and rendering traditional methods and processes obsolete.
Against that background, infrastructure sabotage is causing costly shutdowns and industrial espionage and data theft are a threat to the very survival of companies. This means a new focus on IT security as well as carrying out maintenance and repair shutdowns in refineries in a much safer way, including using ATEX-classified inspection equipment in hazardous areas.
Finally, as an inherently risky and sometimes dangerous business, it is essential to have robust HSE processes in place to protect the health and safety of the people who work in the industry. With our global network of service centers and technical personnel, DEKRA is ideally positioned to support you in all areas of inspections and operational safety – even at short notice.
Partnering along the value chain
With our extensive range of testing, validation, consultancy and training services, we support operators in the Oil & Gas industry along the entire value chain. From plant safety and operational optimization to non-destructive testing or securing IT systems and hazardous areas, we are at your side - worldwide.
Why DEKRA?
Focusing on safety at home, at work, and on the road, DEKRA is your global partner providing comprehensive services designed to ensure a safe, secure and sustainable world. The company employs more than 45,000 specialists worldwide focused on increasing safety in all areas of life, including process safety consulting and testing, industrial inspection, and product certification. DEKRA operates in over 60 countries delivering a safer world through consulting, inspections, testing, certification, auditing, and training.
Featured Solutions & Services
Our experts leverage proven strategies and proprietary tools to create tailored programs that meet your goals. From exploration and production to refining, purifying and distribution, DEKRA will guide you through each step as we assess your needs, develop an action plan, and implement your solution.