Laboratory Services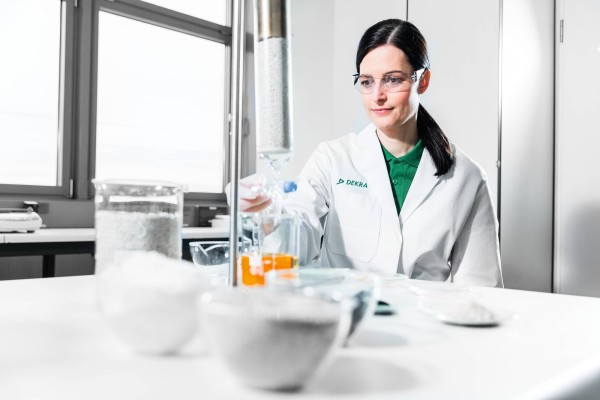 Laboratory Services by DEKRA
Testing and analysis to ensure the responsible manufacture of products of proven safety and quality.
Safety and quality testing of materials, processes and products to boost confidence in your brand
State-of-the-art chemical analysis, materials testing and product safety inspections to ensure environmentally responsible manufacturing, healthy workspaces, proper handling of hazardous substances and waste, and quality products compliant with international regulatory standards.
As technologies, materials and consumers evolve, we focus on providing comprehensive laboratory assessment services designed to support manufacturers, suppliers and retailers in efforts to ensure their processes and products meet regulatory standards and quality expectations. DEKRA experts conduct advanced testing and analysis of hazardous substances and the environmental impact of your processes according to established international standards to help you protect employees and the communities in which you operate. Whether analyzing the chemicals or materials used in the making of your products, our laboratory services provide the insight you need to better manage environmentally sound manufacturing and verify the quality of components to ensure safe, compliant and reliable products. With decades of experience, our product safety testing specialists perform robust testing including electrical and explosion safety as well as usability and performance assessments to help you attain the certifications needed to place your products in dynamic markets around the world.
Our comprehensive laboratory services are available to companies of any size across all industries to support your efforts in adapting environmentally responsible manufacturing processes and ensuring product safety according to international regulations and industry standards.
DEKRA laboratories provide neutral analysis for accurate, independent results you can count on. We look forward to serving you!