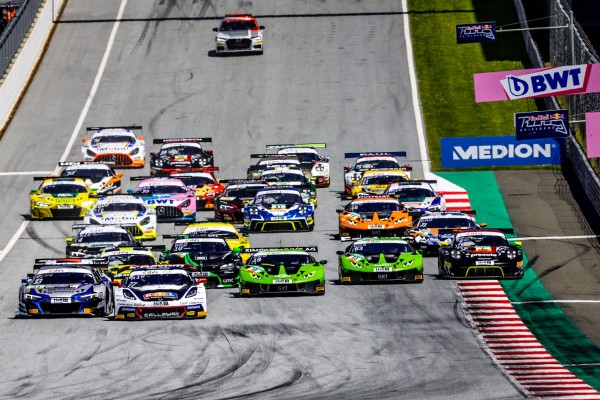 High-octane motorsports mixture for all senses
DEKRA in the ADAC GT Masters
Where brand variety is written large: The ADAC GT Masters is fulfilling its claim to be the "league of the super sports cars" in full – and in DEKRA, the ADAC GT Masters knows it has a high-caliber and reliable partner at its side.
The leading expert organization DEKRA and the popular German racing series which in 2021 will be the first motorsport series to hold the title of German GT Championship, have been working together since 2008. It is the longest partnership in the history of the ADAC GT Masters. It is conspicuously documented by the start number presentation with the striking DEKRA logo on the vehicles of Audi, BMW, Corvette, Honda, Lamborghini, Mercedes-AMG and Porsche.
And it is this brand variety in particular that generates enthusiasm. "Hardly any other series brings fascinating automotive technology as impressively to life for the fan – both visually and acoustically – as the ADAC GT Masters," says Sabine Knaupp, Head of Global Marketing Services of DEKRA SE. "Thus, the rightly named 'league of super sports cars' is a perfect presentation platform for DEKRA."
From a purely technical point of view, there is something for everyone in the ADAC GT Masters: The internationally used GT3 regulations allow the use of different vehicle concepts with front, central, and rear engines. By means of a Balance of Performance (BoP), which is applied in uniform fashion worldwide, the individual GT3 racing cars are brought to a similar performance level. This ensures equal opportunities among the manufacturers and fair duels on the track.
And the ADAC GT Masters also has a lot to offer in terms of driving: Ex-DTM drivers compete against endurance aces and GT newcomers. Thanks to the driver changes during the two 60-minute races per weekend, this creates an exciting mix of routine and youth that has already provided plenty of racing action in previous years. And quite a few talented drivers have made the jump to international racing series after their time in the ADAC GT Masters.