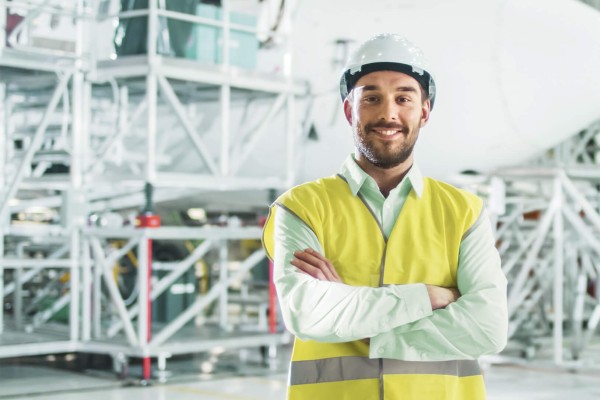 Boost performance and ensure safe operations
Aerospace and Defense Industry
Providing global excellence in safety - Beyond mere compliance
With decades of experience, DEKRA is a trusted partner working within the aerospace and defense industry. We provide a range of services focused on ensuring regulatory compliance, strengthening sustainable supply chains, implementing effective cyber security, training personnel and increasing performance. Our solutions are designed to meet the specialized demands of product developers and manufacturers as well as logistics and support services providers throughout the aerospace and defense value chain.
Whether assisting you with industry-specific consulting, testing, certification or training, our services are tailored to suit your individual needs and circumstance so you can better balance certification obligations, effectively manage digitalized data, implement robust cyber security protections and adapt to recognized sustainability principles. We are happy to serve you with comprehensive solutions from a single source at any time, anywhere in the world.
Integrated solutions for common challenges in the aerospace and defense value chain
Struggling to keep many balls in the air, aerospace and defense industry developers, manufacturers, logistics companies and support services providers are directly affected by shifting political alliances, trade tariffs, rising fuel and material costs, a lack of qualified engineers, new market competitors and shrinking capital sources. While dealing with a supply chain weakened by the COVID-19 pandemic, aerospace and defense companies are also tasked to provide demanding customers value-based products and services. Innovative technologies and digital solutions are transforming production and driving new business models, forcing partners up and down the supply chain to adapt smart strategies according to expected industry standards, strict governmental regulations and green sustainability policies.
Regulations demanding low emission rates put pressure on developers and manufacturers to design and produce innovative products compliant with sustainable practices and policy guidelines. While manufacturers must come to grips with evolving environmental policies pushing for more fuel-efficient hybrid or electrical propulsion technologies, diverse regional, national and international regulatory statutes can lead to high developmental and certification spending for several partners providing various services throughout the aerospace and defense industry. Qualified technicians and engineers are in short supply, creating high demand and driving up labor costs, while consumer confidence wavers due to safety concerns and new competitors emerge.
Why DEKRA?
Focusing on safety at home, at work, and on the road, DEKRA is your global partner providing comprehensive services designed to ensure a safe, secure and sustainable world. The company employs more than 45,000 specialists worldwide focused on increasing safety in all areas of life, including process safety consulting and testing, industrial inspection, and product certification. DEKRA operates in over 60 countries delivering a safer world through consulting, inspections, testing, certification, auditing, and training.
Featured Solutions & Services
Our experts leverage proven strategies and proprietary tools to create tailored programs that meet your goals. From planing to aftersales, DEKRA will guide you through each step as we assess your needs, develop an action plan, and implement your solution.