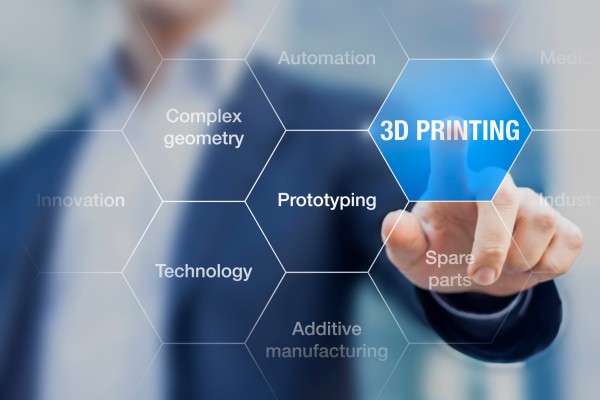 Reliable testing for innovative minds
Benefit from DEKRA's expertise to ensure safety and quality of materials as well as the reliability of components.
3D-Printing
Materials Testing for Additive Manufacturing (AM)
Materials quality and the reliability of the components are essential requirements for the industrial use of 3D printing. This includes knowledge on the integrity, materials properties and the composition of the material used in the printed parts.
In Additive Manufacturing or 3D printing components are produced in a printing like process layer by layer. A printed geometry close to the final shape of the component is pursued cutting down further processing stages. The manufacturing process gives great freedom to design and engineering allowing complex geometries and advanced materials used in a non-traditional way providing exceptional features.
Today Additive Manufacturing is an established production technology in many fields known for special characteristics and extreme reliability in difficult conditions such as aerospace & aviation, medical and automotive. As the technology gains ground Additive Manufacturing is also entering the traditional industrial manufacturing and workshops.
Whatever the industry or application it is vital to secure that the parts you produce and the processes you use are safe and meet their requirements.
In many cases the AM parts need to comply with the same requirements as the components produced with conventional technologies. It is also of significant importance to have the information on the reproducibility of your equipment, processes and materials studied while you are developing and certifying your products and processes. Regarding safe operation, handling and logistics there are special regulations for powders, raw materials, waste & waste disposal which need to be considered.
An accredited and experienced operator such as DEKRA can provide you with impartial and accurate testing and expertise you can trust on any stage of your activities.
Due to our wide variety of services and industries served, DEKRA is the global partner for the Additive Manufacturing industry and safe 3D printing.
Projects and experience of DEKRA in additive manufacturing
We have cooperated as a development partner for a major operator in AM to solve complex issues related to challenges in determining materials properties. With our experience in testing and modern testing technology we were able to build rapidly new expertise, procedures and data regarding determination of elastic modulus used in the design of medical components to support our customer. This helped our customer to solve a critical manufacturing challenge with more confidence to the test results.
Why DEKRA?
Core competence in materials testing & expertise

Agility & lean deliveries

Accuracy & repeatability

High capacity

Modern testing technology

Wide industrial base & network of global services

Accredited laboratories

Reliability & traceability