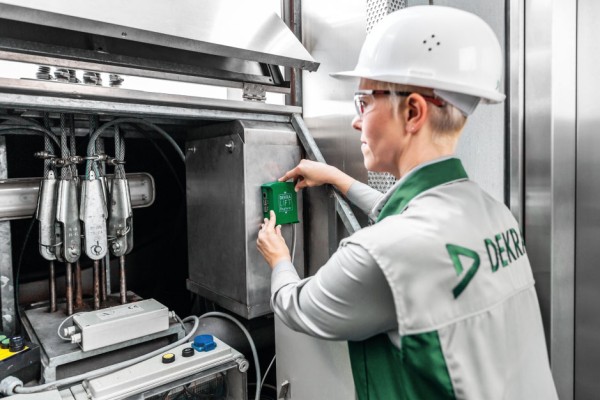 Tracking elevator data with an easy-to-use online dashboard for remote monitoring and in-depth analysis of elevator systems.
Digital Lift Explorer
Ensure elevator reliability and passenger safety with data tracking
Responsible operators and service providers follow strict maintenance protocols to ensure the quality, safety and reliability of elevator systems in accordance with common standards and mandates. With the Lift Explorer digital solution, DEKRA provides a simple retrofit installation for continuous remote monitoring of critical parameters to support your preventive and regular maintenance plans for optimal elevator performance.
The easy-to-use digital DEKRA Lift Explorer provides continuous monitoring of your elevator systems so you can:
Promptly identify problems and initiate corrective actions to protect elevator assets

Conduct targeted and long-term error analysis independent of location

Optimize preventive and regular maintenance strategies

Avoid unnecessary downtimes to better serve customers

Ensure passenger comfort and safety

Increase efficiency and reliability
The DEKRA Lift Explorer connects elevator maintenance teams over existing WLAN networks and enables independent work efforts via an integrated mobile data card. Immediately after fast and easy placement on the elevator car roof, the Lift Explorer box device seamlessly measures, records and monitors data to be displayed on an online dashboard for easy access and analysis at any time from any location.
Lift Explorer works independent of elevator technology regardless of type and manufacturer so as not to interfere with and ensure the autonomy of your unique control system. Among others, parameters under scrutiny via the rooftop transmitter include:
Speed

Floor Alignment & relevelling accuracy

Vertical and horizontal motion

Vibration

Door movement

Current floor location

Limited disorder and standstills
Innovative services from your independent and experienced partner
We provide state-of-the-art digital solutions customized to your individual needs

Our credentials and experience ensure you the expertise you need at any time, anywhere

We support you in the comprehensive assessment and monitoring of your elevator systems

We provide you fast and accurate results with smart and easy-to-use digital solutions