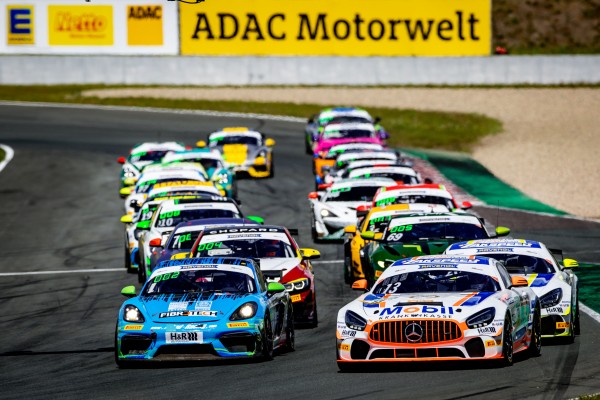 The ideal GT entrant-series
DEKRA in ADAC GT4 Germany
The ADAC GT4 Germany made its debut in the German racing landscape in 2019 and DEKRA has been a partner from the very beginning.
As in the other championships in the event package of the ADAC GT Masters, DEKRA is presenting the start numbers on the series-oriented sports cars of Aston Martin, Audi, BMW, KTM, McLaren, Mercedes-AMG, and Porsche brands in ADAC GT4 Germany as well.
The race series utilizes tried-and-tested structures. Like in the ADAC GT Masters, in ADAC GT4 Germany two races are held per weekend, each lasting 60 minutes. Two drivers share a cockpit, with a change of driver at the half-way stage of the race.
The concept of the new ADAC GT4 Germany is tailored to novices and ambitious drivers of the FIA classification Bronze and Silver who pursue motor racing as a hobby, this rules out professional racing drivers of the Gold and Platinum categories. The series organizers are emphasizing the orientation towards the amateur segment by offering further prizes in addition to the traditional driver and team classification, in which each participant can collect points. Therefore, young drivers under the age of 20 also participate in the independent junior classification, while drivers of 35 years and older also participate in the so-called Gentleman Trophy.
On the team side, however, there are experienced racing teams and crews with many years of experience in the ADAC GT Masters or on the Nürburgring-Nordschleife such as Team Zakspeed, Dörr Motorsport or Schubert Motorsport.
360 to 510 hp-strong GT4 racing vehicles are being used. Compared to the "big brothers" from the GT3 class, which are used in the ADAC GT Masters, these cars have a slightly lower performance and a higher weight and are therefore easier to control in the limit range. The Balance of Performance (BoP) ensures equality of opportunity in the field, so that different concepts such as suction and turbo engines can compete against each other at the same level.
Oschersleben (DEU)
26.-28. May 2023
Zandvoort (NL)
23.-25. June 2023
Norisring
07.-09. July 2023
Nürburgring (DEU)
04.-06. August 2023
DEKRA Lausitzring (DEU)
18.-20. August 2023
Sachsenring (DEU)
08.-10. September 2023
Spielberg (AT)
22.-24. September 2023
Hockenheimring (DEU)
20. - 22. October 2023