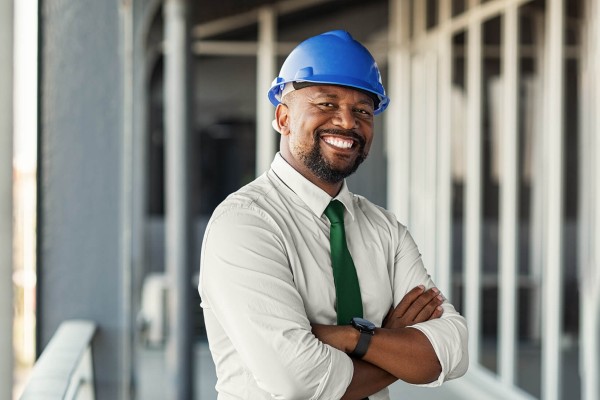 From design and planning to building, operating and dismantling
Construction and Real Estate
Safety excellence through building and infrastructure life cycles – beyond mere compliance
With over four decades of experience in the construction and real estate industries, DEKRA provides a wide range of services focused on ensuring safety and minimizing risk while maximizing performance for a more profitable business. Designed for partners throughout the construction and real estate value chain – from designing and planning to building, operating and dismantling – our comprehensive service packages offer time-saving, cost-efficient quality support.
Whether backing you with effective strategies for robust management systems, digitization and data protection, assisting you in finding and retaining qualified staff and maintaining a safe workplace, or helping you to meet increasingly stringent environmental regulations, our services are tailored to suit your individual needs and circumstance. We are happy to serve you with A-Z solutions from a single source, at any time, anywhere in the world.
Holistic support for the construction and real estate value chain
Companies up and down the construction and real estate value chain are entrusted to design and build sound, functional structures, manage effective facilities operations, and properly dismantle decrepit buildings to promote a healthy, productive society. Faced with growing urbanization and smart city trends shifting to residential and community buildings as well as public infrastructure, industry demands for digitization, data protection, safe workplaces, skilled workers and sustainable strategies to meet strict environmental regulation add to mounting pressures. Coupled with low market-entry barriers driving brutal competition, volatility in the volume and pricing of commodities further strains companies with high-cost revenue ratios. DEKRA helps you to identify the main risks likely to impact your projects according to your major challenges in order to prevent or mitigate them.
DEKRA experts tailor service packages targeting the challenges specific to the construction and real estate industries while providing holistic support throughout the industry value chain. In addition to our Go Green services, we offer single-source, comprehensive customized package solutions for operational excellence, personnel training and efficient facility management supporting safety and sustainability strategies for a more prosperous future.
Why DEKRA?
Focusing on safety at home, at work, and on the road, DEKRA is your global partner providing comprehensive services designed to ensure a safe, secure and sustainable world. The company employs more than 45,000 specialists worldwide focused on increasing safety in all areas of life, including process safety consulting and testing, industrial inspection, and product certification. DEKRA operates in over 60 countries delivering a safer world through consulting, inspections, testing, certification, auditing, and training.
Featured Solutions & Services
Our experts leverage proven strategies and proprietary tools to create tailored programs that meet your goals. From design to operating, DEKRA will guide you through each step as we assess your needs, develop an action plan, and implement your solution.