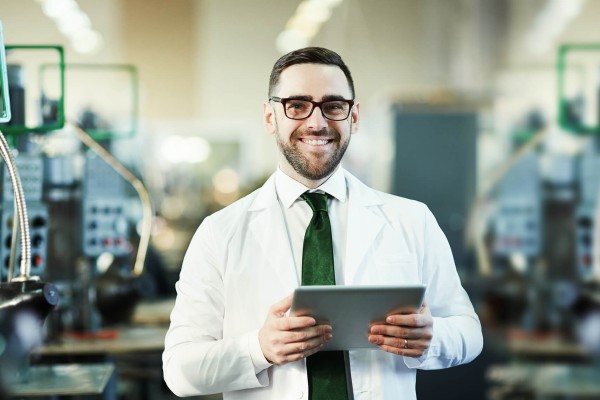 Champion the challenges unique to the consumer goods industry
Consumer Goods
Beyond mere compliance – Safe, sustainable and smart production
Recognized as a trusted partner with decades of experience supporting consumer goods manufacturers and supply chain companies, DEKRA provides comprehensive sustainability solutions, services for smart, safe production and strategies to prohibit fraudulent counterfeiting of trademarked goods. Our tailored services are designed to help the consumer goods sector ensure regulatory compliance, strengthen sustainable supply chains, digitalize processes, implement smart Industry 4.0 solutions, manage safe workspaces, fortify cyber security systems, train personnel and increase performance.
Whether supporting you with industry-specific inspection, testing, certification, training or consulting, our services are packaged to meet your particular needs and circumstance so you can achieve sustainable production, maintain ethical operations, ensure transparent production, establish a traceable supply chain, and protect your brand. We are happy to serve you with comprehensive solutions from a single source at any time, anywhere in the world.
While long-term tendencies push the consumer goods industry to implement smart solutions on the factory floor, corporate social responsibility (CSR) policies supporting transparent product labeling and established sustainability standards mandating low carbon emissions and green electronics pose unique challenges. As the number of smart homes continues to increase, connected IoT products bring new safety risks and breach of personal privacy concerns. Companies working in the consumer goods sector are wise to adapt effective risk management strategies to offset increasing supply chain disruptions due to compounding events around the world. Climate change worries and limited resources directly influence the price of raw materials and lead to stricter regulations on business to protect the environment. With eCommerce platforms enabling direct sales, manufacturers must now invest in digital technologies with analytic capabilities to better understand changing user habits and consumer preferences so they can capitalize on this highly profitable trend.
Why DEKRA?
Focusing on safety at home, at work, and on the road, DEKRA is your global partner providing comprehensive services designed to ensure a safe, secure and sustainable world. The company employs more than 45,000 specialists worldwide focused on increasing safety in all areas of life, including process safety consulting and testing, industrial inspection, and product certification. DEKRA operates in over 60 countries delivering a safer world through consulting, inspections, testing, certification, auditing, and training.
Featured Solutions & Services
Our experts leverage proven strategies and proprietary tools to create tailored programs that meet your goals. From production to distribution, DEKRA will guide you through each step as we assess your needs, develop an action plan, and implement your solution.