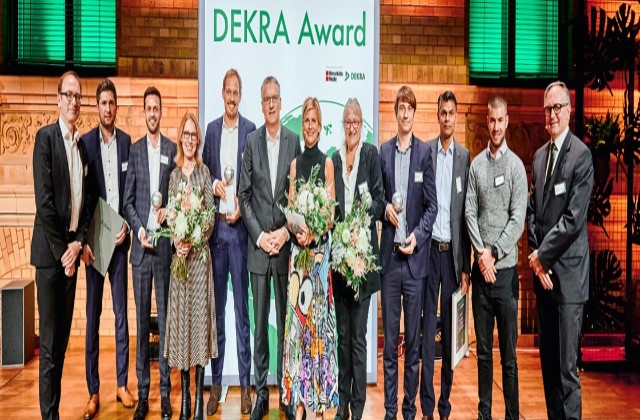 The DEKRA Award ceremony on 23rd October 2019 at the Telekom Group Representative Office in Berlin.
The ceremony 2019
The winners of the renowned DEKRA Award 2019 have been selected: The top-class jury selected innovations from Bosch eBike Systems (Safety on the Road), Linde Material Handling (Safety at Work) and GWS Gesellschaft für Siedlungs- und Wohnungsbau Baden-Württemberg (Safety at Home) as winners. In the new "Startups" category, a solution for smart crisis management from Serinus won. A novelty at the DEKRA Award: The winner of the "Startup" prize was determined for the first time in a grand finale by an audience vote at the event. The awards for the innovations for greater security were presented yesterday, October 23, at a ceremony held at Telekom's main representative office in Berlin.
The globally active expert organisation DEKRA, together with WirtschaftsWoche, Germany's leading business magazine, has been organising the DEKRA Award for many years and is awarding prizes for pioneering top performance in the service of security. Criteria for the nomination and the subsequent jury decision include the degree of innovation, effectiveness, relevance and acceptance of the presented solution.
"The DEKRA Award inspires, gives innovative impulses and encourages people to invest in the safety-relevant tasks of tomorrow," said Stefan Kölbl, Chairman of the Board of DEKRA e.V. and DEKRA SE, at the ceremony. "In the age of digitalisation, this year's winners have convinced with outstanding innovations that provide more long-term and sustainable security for the economy and society".
Impressions of the DEKRA Award Ceremony 2019