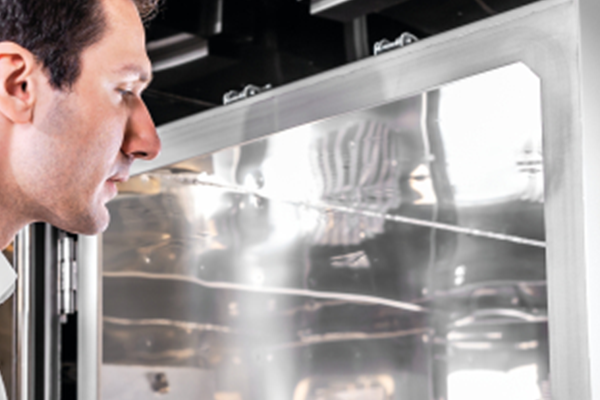 VOC emission testing of automotive interior parts
VOC emission testing of automotive interior parts
Emissions and odor behavior of components.
With new user interfaces, innovative materials, and corresponding customization options, the importance of material quality and processing in the vehicle interior is increasing. DEKRA assists you with examinations of vehicle interior components for emissions of volatile organic compounds (VOCs) as well as condensable substances (FOG) that affect indoor air quality, health, and driving comfort.
Do you have questions about VOC emission testing? Our experts are here to provide you with information!
Safe protection through emission testing
In the DIN EN ISO/IEC 17025 accredited DEKRA laboratory, our experts use test chamber and odor measurements as well as pollutant analyses to investigate and evaluate the odor and outgassing behavior of automotive interior parts under various environmental influences. For this purpose, we offer emission measurements and analysis procedures in accordance with all relevant limit values and standards, such as VDA 270, VDA 276, VDA 277, VDA 278 and DIN ISO 12219.
DBL 1000 (formerly DBL 5430) - Emission and odor in the interior - full release including VDA 278, VDA 276, DIN ISO 12219-4/-6/-7, VDA 276-3

DBL 5307 - combustion test AA 10, AA 11, AA 12

GS 97014-3 - Emission measurement under air exchange in a test chamber (summer test)

GS 97014-4 - Determination of odor behavior

GS 97038 - Burning behavior

PV 3015 - Fogging

PV 3925 - Formaldehyde

PV 3900 - Odor

PV 3341 - total carbon

PN 780 - Emission behavior interior

TL1010 - Burning behavior of interior materials

VW 50180 - Emission behavior of parts, components, semi-finished products and materials of the vehicle interior
Please contact us regarding current approvals and recognitions as well as to coordinate your specific test concept. A classification of the detected individual substances with regard to substance prohibitions, declaration obligations and hazardous substance regulations (for example GADSL, CLP) is also carried out by our experts. Arrange an appointment now!
For further environmental simulation tests , corrosion tests, surface tests, media resistance tests and weathering tests we are also at your disposal.
DEKRA - Your partner for VOC emission testing
Interdisciplinary testing spectrum covering all aspects of chemical safety and material quality cal safety and material quality

DIN EN ISO/IEC 17025-accredited laboratories of DEKRA Automobil GmbH in Germany in Bretten, Halle, Saarbrucken and Stuttgart

Worldwide DEKRA laboratory network with testing and evaluation facilities